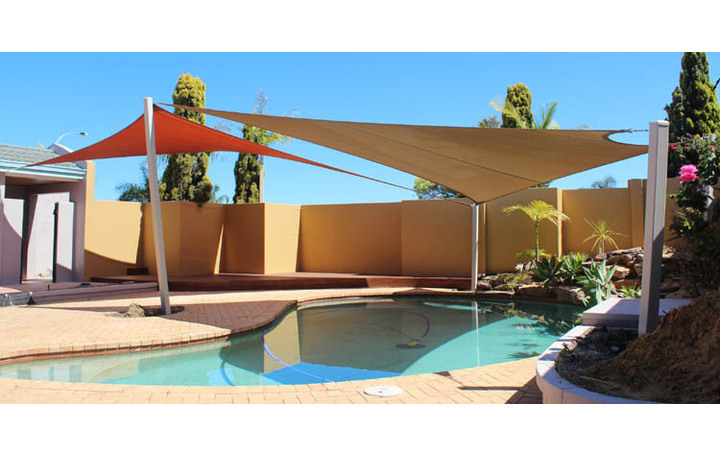 Stay Cool and Protected With a Local Currambine Shade Sail Installation by Sail City
Choose Sail City to manufacture and installs your quality shade sails in Currambine - FREE Onsite Design, Measure and Quote
Why Call For A Free Currambine Shade Sale Quote Today
Established Since 2003
Free Measure and Quote
Free Onsite Design
Great Range of Colours
Professional installation
Quality Materials, Stitching, and Manufacture in our Local Warehouse
Council Approval Assistance Where Required
Currambine like all Perth suburbs often experiences high levels of UV rays, especially during the hotter months of the year from October through April.
By installing one of Sail City's award winning shade sails you can protect yourself and your family from the harmful UV rays while still enjoying the warmer weather. That way you'll stay looking younger longer while enjoying yourself outdoors.
Sail City Shade Sails manufactures and installs shade sails over a variety of areas such as, carports, pools, playgrounds, courtyards, balconies, in both domestic and commercial areas of Currambine.
These shade sails offer an attractive and affordable addition to both Currambine homes and businesses by providing a shade solution for an area, allowing it to be utilised to its fullest potential.
You can feel confident getting a shade sail from Sail City as we have been established since 2003 and have been awarded multiple times for our designs by the Specialised Textiles Association National Awards for Excellence.
This means that your shade sail will be one of the best shade sails around for quality, endurance, longevity and strength.
Sail City Perth Shade Sails
6 sided large sail with heavy duty wood poles and steel posts. Fabric is Comshade navy blue.
Rainbow Z16 Silver
Sail City Perth Shade Sails
Sail City Perth Shade Sails
The quality of each shade sail is guaranteed by custom designing the sail to fit the unique application it will undertake.
We use 3D CAD engineering software and laser technology to cut the sails to size. Sail City increases the accuracy and minimises the waste when manufacturing each sail.
Along with high tech manufacturing techniques Sail City uses high quality fabrics with the maximum UV protection backed by a 10 year proportional warranty.
Shade Sails can also provide a privacy barrier when a relatively non-transparent fabric is used and the sail is mounted correctly so that will create a visual and sound barrier. One shade sail Sail City has installed was used to both protect plants along a fence line and provide additional privacy as it was mounted between the fence and roof of the home.
Protection from UV rays in the summer is important for all people but especially for children who are often not even aware of the present dangers excessive UV exposure can cause. Shade sails positioned over playgrounds in Currambine can create a far safer environment for children to play in during the day when the UV rays are at their highest. Sail City has installed many playground shade sails often using the hyper shape. The hyper shape is a position the shade sail is set to that is the most aerodynamically stable position, limiting movement of the sail even in high winds. This will prolong the life of the sail as it will limit any wear from movement cause by wind.
Thanks to the following local suppliers
Our partners at Retractable Fly Screens offer high quality retractable fly screens for Currambine which are important additions to a home or business for protection against unwanted insects from entering inside a building.
We commonly install commercial shade sail solutions for childcare centres across Perth and rural areas. Thanks for referrals from local Currambine childcare broker HPB for ongoing support.
Our warehouse does not need an access control system itself but we have installed shade sails in lunch areas for many companies with sophisticated access control systems. We note that we have had great support in getting onto site from Austguard who specialise in Currambine business access control systems.
We also sell high quality shade sails parts in Perth. See why you should get a shade sail. Shade sails are widely used within Australia as they offer a great form of protection from the sun and can cool an area down by providing shade. If you are looking at getting a shade sail think of Sail City for a high quality custom shade sail in Currambine.
Get In Touch
Call us today or fill in our web form to organise a no obligation free design, measure and quote. Our experienced installers will come to your property and identify your options with you, design and quote you on the day.
Then we can help streamline any approvals or design so external approval is not required.
On approval we will organise your custom shade sails manufacture in our local Perth facility and book in the installation date so you can enjoy your outdoor areas thereafter.
Other great local companies that we recommend:
Get in touch today for your free quote
Mick Day

Managing Director
Sail City Shade Sails in Currambine across Perth and WA.